By
Suzanne Hull
We really enjoy getting out and talking about the mission of Des Moines European Heritage Association! We'd love to see you at the World Food & Music Festival this weekend! We'll be on the north side of Locust Street between 12th and 13th Streets. Stop by to make a Lebkuchen heart and learn more about Christkindlmarket Des Moines taking place November 30 – December 2, 2018!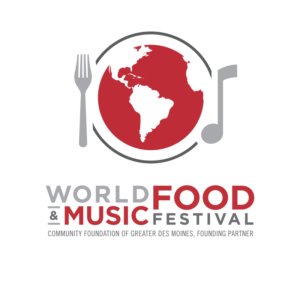 The 2018 Festival will feature Cuisine from Around the World!
Live Entertainment – Cooking Demonstrations
$1 tastes/all entrees $6 or less
Free to attend
Friday, Sept. 14: 11 a.m. – 11 p.m.
Saturday, Sept. 15: 11 a.m. – 11 p.m.
Sunday, Sept. 16: 11 a.m. – 5 p.m.
Des Moines European Heritage Association connects Iowans with European traditions, language education and cultural experiences; and it provides resources and tools to other cultural heritage organizations.