Gift & Specialty Items
Get your tickets to our exclusive preview event, "'Twas the Night Before #CDM2019" taking place at Principal Park on Thursday, December 5, 2019.
Christkindlmarket Des Moines 2019 Gift and Specialty Item Vendors


An der Weihnachtsecke (At the Christmas Corner), Imported from Germany
Offering: advent calendars, imported chocolate, baumkuchen, Mozart kugeln, Asbach filled chocolates, assorted marzipan, Haribo, Pandoro, Pannetone, butter cookies, stollen, beer steins, beer mugs, beer glassware, shot glasses and Christkindlmarket Des Moines merchandise. Price Range: $1 – $200
---

German Imports, Germany

Offering: Steinbach nutcrackers and smokers; INGE glass ornaments.
Price Range: $5 – $400
---
Damon will be selling unique, hand-made cutting boards, cookie molds, and cheese slicers.
Offering: Woodworking: cookie molds, cutting boards, cheese slicers
Price Range: $20 – $200
---
Ornaments, lanterns, signs, maps, and any other decorations we can cobbler together. Hand made in Des Moines with a laser cutter, woodworking, and a host of other mediums.
Offering: Lanterns, ornaments, decorative signs and maps, laser cut artwork
Price Range: $1 – $100
---
At Pickle Creek, we use organic herbs we grow on our Iowa farm to handcraft artisanal herbal products, including infused olive oils and vinegars, soaps, salves, salts, and balms.
Offering: Herb-infused olive oils and vinegars, soaps, salves, salts, and balms that we handcraft ourselves using original recipes and the herbs and other produce we grow in our garden.
Price Range: $3 – $25
---
At Held Companies we make handmade wooden snowmen and deer of all sizes. We also create laser cut decor such as; signs, ornaments, coasters and magnets.
Offering: Birch Snowmen, Schwibbogen, Birch Deer, Repurposed wooden signs, earrings, ornaments, wooden trees, etc.
Price Range: $2 – $150
---
Three In One Artworks offers unique, hand-crafted functional and decorative clay mugs, trays, boxes and bowls. Designs include agricultural and rural heritage, Celtic, Christian and contemporary designs.
Offering: Ornaments, coffee cups, mugs, serving trays, serving bowls, trinket boxes, trinket dishes, candle holders, vases, kitchen utensil holders, decorative trays, plates and bowls. (Celtic, agriculture and contemporary designs)
Price Range: $15 – $100
---
Authentic 1848 historic Danish Windmill located in Elk Horn, Iowa. The Windmill was built in Denmark in 1848 and reconstructed in Elk Horn in 1975 to working condition and stands as a memorial to the areas Danish Heritage.
Offering: Danish Christmas giftware celebrating old world traditions. Prepackaged Danish candy and Danish food
Price Range: $1 – $100
---
Andy Klindt creates using wood and iron, utilizing anything from chainsaws to traditional hand tools when working in wood and time honored methods of blacksmithing when working with metal.
Offering: Chainsaw carvings, Wooden ornaments, Hand forged kitchen ware, decorations, tools, knives, jewelry, Hand carved wooden kitchen ware, Handmade wooden boxes, totes, tables
Price Range: $7 – $3000
---
Nymph in the Woods creates one-of-a-kind jewelry combining fused glass and wire wrapping! See how the pieces are created during wire wrapping demonstrations!
Offering: Jewelry combining fused glass and wire wrapping – necklaces, earrings, bracelets, rings and more!
Price Range: $15 – $150
---
We make everything we sell in Indianola, Iowa. They are one of a kind fused and stained glass jewelry and home decor pieces. Will be demonstrating blown glass ornaments.
Offering: Fused glass pendants, earrings, bracelets, hair accessories, pop sockets, tie-tac's, tie-bars, money clips & key chains. Fused glass plates, bowls, soap dish, spoon rest, business card holder, napkin holder Christmas ornaments. Stained glass Christmas ornaments pendants, earrings, picture frames and small panels. Blown glass ornaments, hand painted glass Christmas ornaments and hand painted wine bottle lights with winter scene.
Price Range: $8 – $150
---
Handcarved wooden home, kitchen, and lifestyle goods made from ethically harvested urban lumber.
Offering: Hand-carved wooden: spoons, spatulas, kitchen utensils, cutting, serving, and presentation boards and trays, pizza cutters and paddles, shaving razors, shaving brushes, shaving stands, baby spoons, coffee scoops, beer flights, bottle openers, muddlers, wooden bowls.
Price Range: $5 – $125
---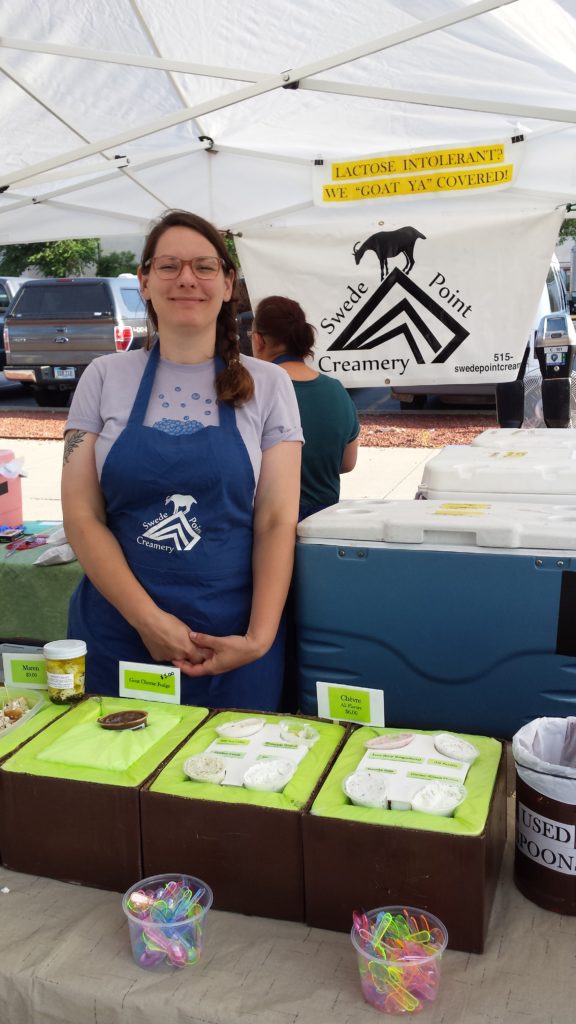 Swede Point Creamery, Madrid, IA | DEMONSTRATION
Swede Point Creamery's Scandinavian Christmas. Locally produced goat cheeses, lotions, soaps, Swedish cookies and kringla. Come meet some of our "goaty girls" at milking time.
Offering: Goat cheeses (flavored chevres, feta, cheese curds, etc), goat milk lotions and soaps produced from our farm where we milk 50 head of goats. Swedish Rye Crisp, Swedish Wish cookies, spritz cookies, kringla, Lingonberry jam, Christmas decorations: wheat goats, tomtes, dala horses and Scandinavian
sweaters, books.
Price Range: $5 – $160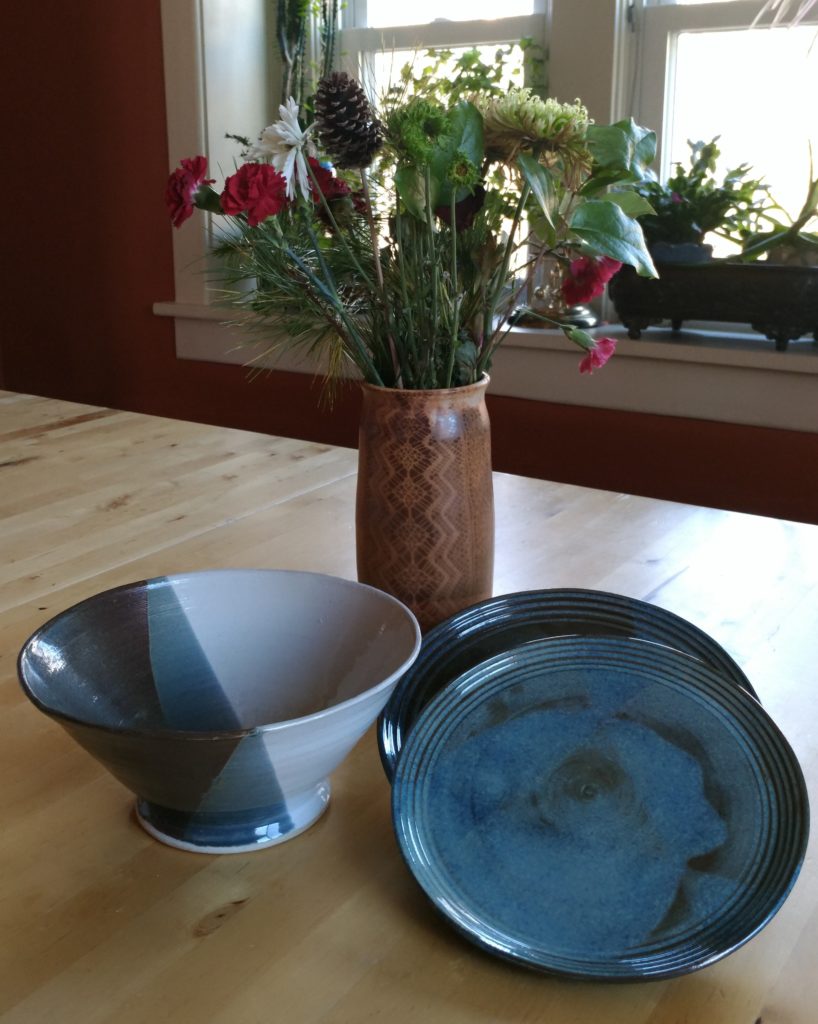 Pam Hyde Pottery has beautiful hand-thrown mugs, vases, bowls, plates and slab built Christmas ornaments. All items are created in her studio in DSM.
Offering: Hand thrown mugs, vases, bowls, plates, yarn bowls, espresso cups, urns, votive candle holders and various other hand thrown items. Additionally slab created ornaments
Price Range: $5 – $100
DreiBerge Coffee, Des Moines, IA
DreiBerge Coffee is a direct-trade, single-origin coffee roaster, based out of Des Moines. Their hut has hot coffee, as well as Christmas gifts and decor.
Offering: Hot coffee (bring your Glühwein mug, or use one of our paper cups), retail packages of coffee beans and tea, laser-cut metal ornaments, and paper star lanterns.
Price Range: $2 – $25