By
Suzanne Hull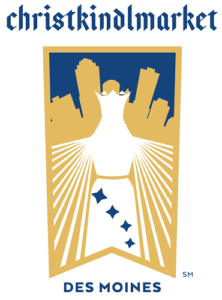 Let us help you plan your visit to Christkindlmarket Des Moines 2017. If you were with us last year for our inaugural event, you'll notice a few new things:
Twice the number of wooden vendor stalls | Food & Beverage | Gift & Specialty Items
We'll be accepting payments via credit and debit cards (as well as cash)
Two serving areas for Glühwein and beer: on Cowles Commons and in Yuletide Hall
Enhance your Glühwein experience with amaretto, apple liqueur and orange liqueur add-ins
Five times the demonstrations
An der Weihnachtsecke (At the Christmas Corner): Christkindlmarket Des Moines 2017 Commemorative Mugs, Beer Steins and Glassware, European Confections, Glaszauber Lauscha (hand-painted, hand-blown glass ornaments), Christkindlmarket Des Moines Merchandise
Yuletide Hall – heated entertainment tent
Confluence Brewing Company brewing a spiced beer called St. Nick's Christkindlbier. We'll have a firkin tapping on Friday of the market at noon. The beer will be on tap while supplies last.
European Cultural Heritage "Meet Up" on Saturday, December 2, 6 – 8pm. Meet members of The Danish Brotherhood, Marsteinen Lodge – Sons of Norway, The Scottish Society Council, Alliance Francaise, Clan Henderson, Stammtisch – Des Moines German Club)
Follow us on Instagram @christmasdesmoines and Twitter @christmasdsm
Grab a bingo card at the Information Hut. Return the completed card to the Information Hut for a chance to win a 2017 Christkindlmarket Des Moines commemorative mug
Grab a survey at the Information Hut. Return the completed survey to the Information Hut for a chance to win a $100 Visa Gift Card.
During your visit, you'll also be able to enjoy:
Opening Ceremony and Tree Lighting: Friday at 6pm
Silent Auction Tree Participants: We've invited non-profit organizations to decorate a Christmas tree that will be offered during a silent auction at the event. Bids can be made at the Information Hut
ATM onsite
Visit with St. Nicholas and das Christkind on Saturday and Sunday fron Noon – 2pm
KinderKorner: Free children's activities all weekend
Location
Christkindlmarket Des Moines will be held at Cowles Commons in downtown Des Moines (221 Walnut St). For directions to the Market, please click here.
Parking
Parking downtown is FREE on the weekends. Beginning at 6 a.m. on Saturday, parking in all City ramps are free of charge. Parking at meters is free all weekend, as well as after 6 p.m. during the week.
The following City of Des Moines parking ramps are near Cowles Commons. For additional parking ramps, visit http://www.downtowndesmoines.com/park. The following parking ramps will be charging "event parking" rates ($8/day – $10/day) on Friday, December 2 and Saturday, December 3 due to performances at the Civic Center.
5th and Walnut Ramp: 422 Walnut Street, Des Moines, IA 50309, Phone: 515-243-8442, Cost: 1st/2nd hours — $2/hr., Additional hrs $1.25/hr. Total Spaces: 609
4th and Grand Ramp: 400 Grand Ave, Des Moines, IA 50309, Phone: 515-243-8442, Cost: 1st/2nd hours — $2/hr., Additional hrs $1/hr. Total Spaces: 1016
3rd and Court Parking Ramp: 210 2nd Ave, Des Moines, IA 50309, Phone: 515-243-8442, Cost: 1st/2nd hours — $2/hr., Additional hrs $1/hr. Total Spaces: 750