By
Suzanne Hull
We are pleased to reveal the design for the Christkindlmarket Des Moines 2017 commemorative mug designed by Sabine Voigt and produced by Straub Marketing.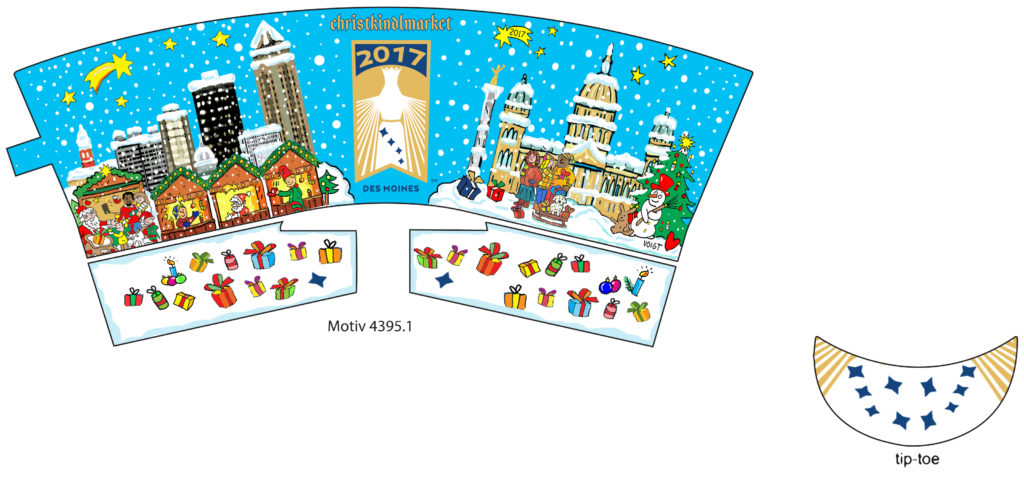 For this year's mug design, we again collaborated with German designer Sabine Voigt. She previously worked for Rolling Stone Magazine and continues to design mugs for Christmas markets around the world. We chose to incorporate our new logo this year, designed by Lessing-Flynn Advertising.
Straub Marketing is our 2017 Preferred Brand Solutions Vendor. We're working with them to provide our commemorative mugs this year. Straub Marketing is a complete brand management company specializing in creative, print, promotional, apparel and fulfillment. The Straub team, with over 40 years of industry experience, creates seamless brand strategies, specifically customized by evaluating the organizational, circumstantial or event needs of clients.
Christkindlmarket Des Moines is produced by a non-profit and organized by volunteers. We depend exclusive on our community's financial support through sponsorships, grants and donations.
Guarantee your commemorative mug with a donation of $25 per mug in pre-sale now through July 1. The mugs can be picked up at the event in December. These commemorative mugs make great stocking stuffers and keepsakes for those of you that collect Christkindlmarket mugs.
Des Moines European Heritage Association connects Iowans with European traditions, language education and cultural experiences; and it provides resources and tools to other cultural heritage organizations.