By
Suzanne Hull
You've been asking for Krampus inclusion at Christkindlmarket Des Moines for years, now here's your opportunity to show us what you've got! In addition to being the Eve of Sankt Nikolaus day, December 5 is known as Krampusnacht (Krampus Night), during which these hairy beasts appear on the streets.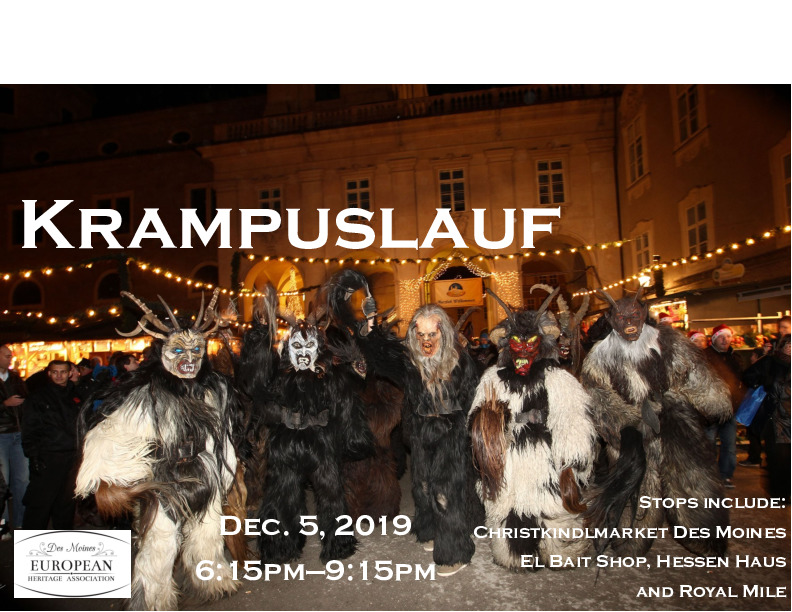 A Krampuslauf (Running of the Krampuses) is a fun run or walk of celebrants dressed as the wicked beast. Dust off your Krampus costume and parade through downtown Des Moines. Accompanied by St. Nikolaus and Santa Claus (your handlers), you'll start at Christkindlmarket Des Moines (Principal Park Parking Lot) and then proceed to El Bait Shop, Hessen Haus and the Royal Mile. At each of these locations, those in costume will be offered a customary herbal liqueur shot which is meant to disperse winter's ghosts.
The parade will begin at the Christkindlmarket Des Moines 2019 private preview event, "'Twas the Night Before #CDM2019", at Principal Park where those in costume will receive free admission. Follow St. Nikolaus and Santa Claus around the festival grounds to interact with attendees (remember, Krampus doesn't talk; the mask will do all the talking for you!)
Spectators who want to attend "'Twas the Night Before #CDM2019" at Principal Park will need to purchase tickets.
If you will be participating in costume, please contact Suzanne Hull at christkindlmarketdsm@gmail.com for additional information.
Who is Krampus?
• Hear the proper pronunciation: https://en.pons.com/translate/dictionary-of-german-spelling/Krampus Krampus is pronounced "krohm-poo-s" as in "con & puss," NOT "kram-puh-s" as in "campus.
• Krampus | Wikipedia: https://en.wikipedia.org/wiki/Krampus
• Video: Top 5 Krampus Facts and Origin: https://www.youtube.com/watch?v=pE_Mmy8PEc0
• Video: Krampus parade in Hollabrunn, Austria: https://www.youtube.com/watch?v=UOecWdY9OAk
• Video: Who Is Krampus? | National Geographic: https://www.youtube.com/watch?v=HrKL7D7QZRA
Don't have a Krampus costume? Here are a few resources:
• https://www.krampusmasks.com/
• https://www.etsy.com/market/krampus_costume
• http://krampuslosangeles.com/austrian-suits-masks-for-sale/
• Amazon: http://ow.ly/G15B50u3HDn