By
Suzanne Hull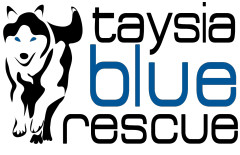 Taysia Blue Rescue is back for a second straight year, and we can't wait to see how they plan to deck their tree!

"We participate in the CDM auction as a fun event for our volunteers to work together to be creative and decorate the tree (a couple of our volunteers talk about this throughout the year to get theme ideas)," explains representative Erica Hellmich. "By being a part of this, Taysia Blue Rescue is being exposed to a wide audience that may not otherwise hear about us. Our rescue is a husky and malamute breed specific rescue and what is better than cold, Christmas and northern breed dogs?"
Taysia Blue Husky and Malamute Rescue is a 100% volunteer and foster based organization that pulls dogs from shelters where they are at risk of being euthanized and also takes on Huskies and Malamutes that have medical issues such as Heartworm and orthopedic problems.
The Silent Auction funds for this tree will allow the Rescue to continue to take in dogs that come with expensive medical needs such as surgeries and Heartworm treatment.
If you are interested in learning more about Taysia Blue Rescue, please visit their website.