By
Suzanne Hull
Des Moines European Heritage Association (DMEHA) invites you to be a part of something great: Christkindlmarket Des Moines. Volunteers are integral to a successful community event. We need your help and we have several volunteer opportunities to choose from whether you're looking for just yourself or a group. Be sure to include family members, friends and others who could join you to make it more fun!
After your shift, turn in your credential for: a ticket worth 5% off your purchase in "An der Weihnachtsecke", a ticket for one free Usinger sausage or one free drink ticket. Christkindlmarket Des Moines Tear Down volunteers will receive a pizza supper while tearing down Sunday night. At the end of the weekend, all volunteers will be entered in a drawing. One lucky winner will get to choose either a piece of DMEHA merchandise or imported food.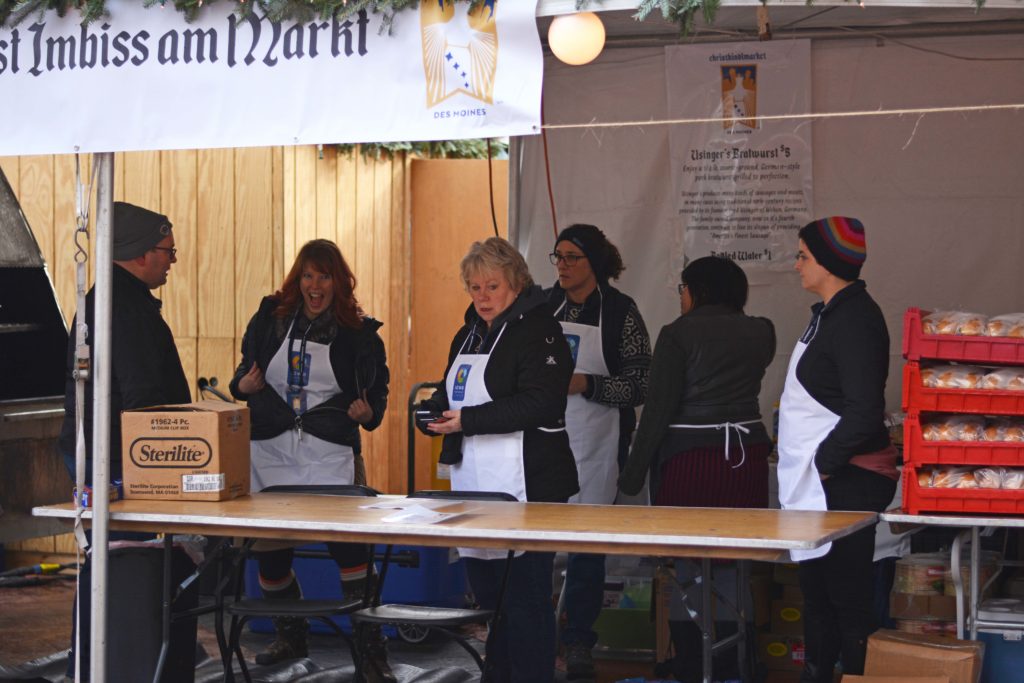 NON-PROFITS: If your non-profit signs up and shows up to fill a shift (volunteers need not be directly associated with your non-profit) to serve Glühwein, beer or Usinger sausages, you may put out your own "tip" box for donations for your organization during that shift. Please email christkindlmarketdsm@gmail.com with proof of tax-exempt status and the location/date/time of your filled shift.
No-shows can cause great difficulties for the planning and production of Christkindlmarket Des Moines. We ask that you report on time and remain on task for the duration of your shift(s). All volunteers must be at least 16 years old when they report for their volunteer shift. Those dealing with alcohol must be at least 18 years old when they report for their volunteer shift.
Christkindlmarket Des Moines Setup: Do you have an eye for detail? Work with a team to set up Christmas trees, assemble signage, hang stringed lights, decorate wooden vendor stalls, etc. Some lifting may be required

Sales Associate: For two of our owned and operated locations, operate a point of sale system on an iPad, take cash, stock shelves and interact with customers.

Bratwurst Imbiss am Markt: Grill and serve Usinger brats.

Beer Pourers: Work with the Iowa Beer Bus team to serve beer to attendees.

Glühwein & Kinderpunsch Sales: Serve warm, mulled wine and mulled cider from a tent or in Yuletide Hall to eager attendees.

Christkindlmarket Des Moines Tear Down: Remove Christmas trees, disassemble signage, remove stringed lights, remove decorations from wooden vendor stalls. Some lifting may be required

Parking Attendant: Manage parking for free and fee-based parking lots.

CDM Preview Ticket Takers: At the venue entrance, welcome attendees to 'Twas the Night Before CDM, our ticketed preview party. Check attendees against guest list, sell tickets via Square and hand out tickets and goodie bags.

CDM Preview Ushers: Welcome VIP attendees into Yuletide Hall for dinner and a show!
KinderKorner: Lead children in European-centric activities. Supplies provided.

Yuletide Hall: Assist the Yuletide Hall site leaders to ensure that performers have arrived, are prepared to take the stage and have what they need to perform.

Non-Profit Trees: Remove ornaments and lights from non-profit trees and help silent auction winners transport these items and possibly the tree to their vehicles.

Information Area: Answer attendee's questions, provide info about DMEHA, hand out site maps, entertainment schedules, etc.

Vendor Stall Setup: Construct prefabricated wooden vendor stalls. Heavy lifting definitely required

Waste Removal Elves: Empty the waste receptacles into a large roll-off bin.

Volunteer Relations: Greet and check-in volunteers, direct volunteers to assigned areas, and keep Volunteer Headquarters organized.