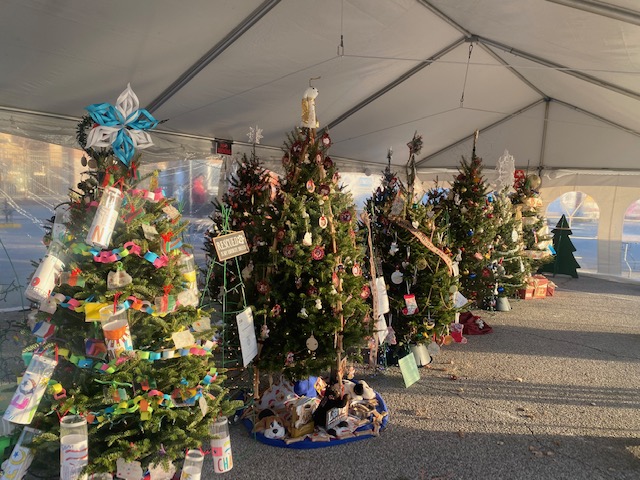 ---
We are thrilled to be gearing up for Christkindlmarket 2023. This year's market sees the return of patron favorites and new vendors to entice and excite! The Silent Auction is no different. We have nine returning nonprofits and three new organizations waiting to showcase amazing trees for our market goers to bid on, take home, and enjoy for the remainder of the holiday season.

The Silent Auction will begin the first day of the market, Thursday, November 30 at 5pm and conclude Sunday, December 3 at 5pm. Winning bidders will be notified via our text-to-bid platform and all trees will be wrapped and ready for pick up between 5:30pm and 7:30 pm Sunday evening directly following the end of Christkindlmarket 2023.

Click here to see a description of each organization's tree theme.

Click here to learn about how to bid on these trees.
List of Participants:

• Daughter of Norway-Eva Nansen Lodge (7th year)

• Hope Animal Rescue of Iowa (3rd year)

• Des Moines Refugee Support (2nd year)

• Italian-American Cultural Center of Iowa (2nd year)

• Can Do Cancer (1st year)

• AFS Intercultural Programs USA (2nd year)

• Serving Hands, INC. (2nd year)

• Living History Farms (1st year)

• Alliance Française of Central Iowa (3rd year)

• Self-Help International (1st year)

• Danish Brotherhood Lodge #15 (4th year)

• Sons of Noray Marsteinen Lodge (6th year)