Last Wednesday, organizers of Christkindlmarket Des Moines met with the City of Des Moines street use team. During the meeting, we received approval to close the streets around Western Gateway Park to produce Christkindlmarket Des Moines in 2016.

This is a project a hand-full of us have been working on for over a year and a half. We could really use the community's support. There are many ways to be involved. I invite you to sign up via email to be notified when these opportunities become available. We would also love your support on Facebook. Please "Like" Christkindlmarket Des Moines on Facebook.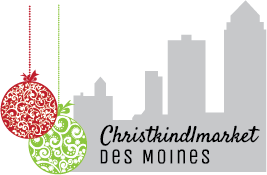 If you are interested in becoming involved with the planning of Christkindlmarket Des Moines, I personally invite you to attend our next event planning meeting at the Downtown Des Moines Central Library on Wednesday, October 14 at 6:45pm in their 2nd floor study rooms. Areas where we could use your leadership include sponsorship, vendors, volunteer coordination, Kinderkorner programming and the beer tent.
Scheduled for the weekend of December 2 – 4, 2016, Christkindlmarket Des Moines is a German-inspired Christmas market whose goal is to educate and entertain the community by exposing them to European-style foods, products and activities. We plan on having regional vendors sell their hand-crafted wares and ethnic foods from traditional wooden stalls, an entertainment area where polka bands, choirs, and bell ringers can perform, a kid's area where they can participate in various cultural activities and a beer tent offering European-style beverages.
If you have any questions, please email christkindlmarketdsm@gmail.com.