By
Suzanne Hull
Over the last few weeks, we have been introducing you to the 15 non-profit organizations who will be participating in this years' Christkindlmarket Des Moines Christmas Tree Silent Auction. Below are the names and themes of all 15 trees you can have a chance to take home at the end of CDM 2019.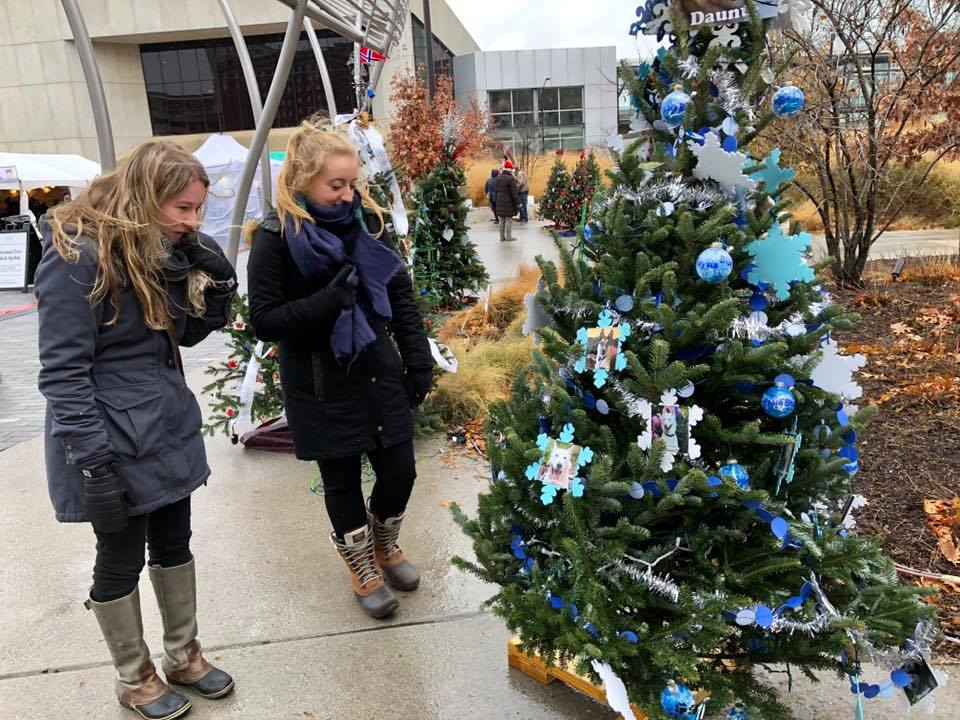 Item 0101: Military and First Reponders presented by Mackenzie Highlanders Pipes & Drums of Iowa
Decorated with ornaments show casing the different branches of military and first responders
Item 0102: Hearts and Hands presented by Mosaic in Central Iowa
"Christmas will always be as long we stand heart to heart and hand in hand" -Dr. Seuss
Everyone loves Dr Seuss & this is a perfect quote to compliment the values of belonging and connection. The people supported by Mosaic will be partnering with friends of Mosaic (volunteers) to create ornaments using their artwork.
Item 0103: Red White and Blue presented by Veterans in Agriculture
After serving throughout the world, our nation's military is always happy to return to the Red, White, and Blue. This tree is all decked out in those colors and not only are these decorations for Christmas, but many can be used to celebrate other national holidays, like the Fourth of July, Veterans Day, Memorial Day and others
Item 0104: A Gift for the Birds presented by the Pet Project Midwest
Ornaments are made to feed the birds. Place this tree in your yard and watch as the birds feast on a cold winter day. Each ornament in wrapped in cellophane and festive ribbon to protect the ornaments for the duration of the Silent Auction.
Item 0105: A Traditional Danish Christmas presented by The Danish Sisterhood
This tree is decorated with all things to create a traditional Danish Christmas
Item 0106: Julehygge (Christmas "Hygge") presented by The Danish Brotherhood Lodge #15
"Hygge" is the Danish secret to happy living. This tree is adorned with traditional handmade ornaments. The woven hearts were first made by Hans Christian Andersen in 1860. He also was known for "papirklip" intricate cut out designs made from paper. Straw ornaments and garlands of Danish flags are traditional Christmas tree decorations.
Item 0107: Scottish Heritage presented by the Scottish Heritage Society of Iowa
White lights, tartan ribbon, balls, bells, white Westie Scotty Dogs, and empty mini-whiskey bottles dress up this tree.
Item 0108: French Christmas presented by Alliance Française of Central Iowa
This tree was inspired by the French language and culture
Item 0109: Christmas in Norway presented by Sons of Norway, Marstienen Lodge
The tree is decked out in culturally appropriate decorations of vikings, viking ships, Nisse and Norwegian flags.
Item 0110: Pups at Play presented by Taysia Blue Rescue
Leashes, treat filled ornaments, toys/tennis balls. All these decorations can be used to interact with your dog. Other ornaments include the names of dogs that have been in foster with Taysia Blue rescue in Iowa
Item 0111: Funkel, funkel kleiner Stern (Twinkle, Twinkle, Little Star) presented by DMEHA Samstagsschule
A tree decorated to the "tune" of Twinkle, Twinkle Little Star
Item 0112: Home for the Pawlidayz presented by Hope Animal Rescue
Warm country chic feel with highlights of our adoptables and showing rescued is our favorite breed
Item 0113: Deutschland 2020 (Germany 2020) presented by Waukee High School International Club
Deutschland 2020 uses bulbs and ribbons in the German flag colors – Black, Red, and Gold (Schwarz, Rot, Gold). The colors celebrate the unity of West and East Germany on the 30th Anniversary of the fall of the Berlin Wall. Soft white lights shine a beacon for all countries that Democracy will prevail and unite the people. Using clear ornaments and pretzels highlight German Culture that brings Joy during the year.
Item 0114: Rockstar/VIP presented by Star Treatments
Children served by Star Treatments are referred to as "VIP" "Rockstar" so this tree will be adorned with Gold/Red Ribbon, Guitar picks, Bass Guitar Strings, Lanyards, Camera's…and other items that relate to VIP treatment.
Item 0115: Guardian Angels and Scandinavian Gnomes presented by Daughters of Norway, Eva Nansen Lodge 46
This tree is decorated with a variety of Winter Solstice guardian angels and Scandinavian Mythological guardian gnomes that charmingly characterize the Christmas holidays and accented with lights and ornament balls.
Bidding will open Thursday, December 5th at 5pm during our preview party "Twas the Night Before CDM" and will continue through Sunday, December 8th at 3pm. Bidding is available online and via text.