By
Suzanne Hull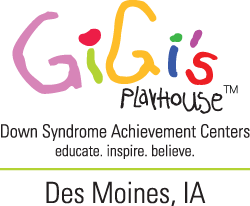 GiGi's Playhouse Down Syndrome Achievement Center in Des Moines is another new participant in this years' Silent Auction. They provide free programs that are educational and therapeutic in nature to individuals with Down syndrome from birth through adulthood, their families and the community.
"GiGi's Playhouse Down Syndrome Achievement Center is excited to be a part of Christkindlmarket Des Moines!" shares, Jessica Lane, Site Director.
"Willy Wonka is the perfect opportunity to use Pure Imagination in honor of our 'i have a Voice' Gala. Our tree will feature bright purples, golds, and magentas exuding the wacky world of Wonka! It's going to be scrumdidilyupmptious with handmade fused glass ornaments designed, cut, and fired inside GiGi's Playhouse by adults in the GiGi University Career Development program."
GiGi's playhouse will also have a 'Buy Now' option for their tree for $321 in honor of 3 copies of the 21st chromosome.
For more information about GiGi's Playhouse Des Moines, please visit their website.