By
Suzanne Hull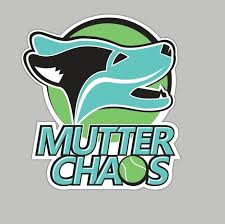 Mutter Chaos Flyball has been decorating a tree for the Christkindlmarket Des Moines Silent Auction every year, and this year, their dog Pickle, had a hand in the decorating.
Mutter Chaos Flyball team is an opportunity to give dogs an outlet for their abundance of energy and have fun doing so. They strive for each handler and dog to perform at the best of their ability and build a stronger relationship between the handler and the dog.
"Flyball is a relay race for dogs. Dogs compete in teams of four to run down a course, jump over four hurdles, jump on a box and grab a ball, then carry that ball back over the hurdles to their handler," explains representative, Carol Freeman. "It is so exciting to watch dogs overcome challenges, and gain confidence that translates even beyond the game. Our dogs and handlers also all have great fun playing together!"
"A modern holiday tradition is to hide a pickle somewhere on the tree. Our little dog Pickle has a mischievous streak and while we were decorating, he decided to hide in the tree! Whoever finds Pickle will have great luck this holiday season. If you see him, please take his picture but allow him to stay hidden in the tree until he can go to his new home."
Keep an eye out for pickle on the "Where's Pickle?" tree and visit the Mutter Chaos Facebook page to find out more information on the organization.